&nbsp
Eligible Applicants
---
To be eligible to apply for a grant in this cycle, the following requirements must be met:
The applicant must be a New Jersey public school district or school with an NJEA local association.
The applicant must be registered or certified in the Sustainable Jersey for Schools program. View Sustainable Jersey for Schools participation status here.
The applicant must have appointed a district or school green team that meets the Green Team action standard and includes at least two NJEA Local Association members.
Funding may be passed through to a non-profit, partner organization, or contractor, but the school district/school must be the applicant and will be responsible for the reporting requirements. Checks will be made payable to the school/school district and sent to its fiscal agent.
Multiple Applications
Can I Apply for More than One Grant?
Schools are eligible to apply for one $10,000 AND one $2,000 grant.

The $10,000 grant proposal will be considered first. If the 10,000 grant proposal is selected for funding, the $2,000 proposal will no longer be considered.




If the 10,000 grant proposal is not selected for funding, the $2,000 proposal will be considered.


Due to the limited number of large grants, applying for both a large and $2,000 grant is a good strategy to optimize the chances of receiving a grant.
School districts are only eligible to apply for one $10,000 grant and are not eligible to apply for a $2,000 grant

If submitting an application for a school district, make sure to create an account for the district (individual schools should create their own grant accounts to submit applications and so should the district).
Previous Grant Recipients
If you received a Sustainable Jersey grant in program year 2023 or earlier, refer to the chart below to determine if you are eligible to apply. Contact Kaitlyn Vollmer at grants@sustainablejersey.com or 609-771-3189 if you have questions about your eligibility.

&nbsp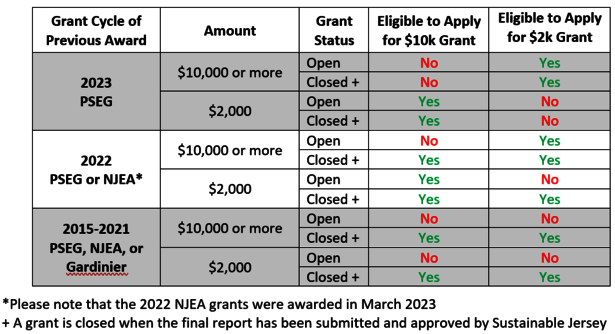 &nbsp

Questions regarding eligibility? Contact Kaitlyn Vollmer at 609-771-3189 or grants@sustainablejersey.com.

The funding supports efforts to implement projects that help schools gain points needed for Sustainable Jersey for Schools certification and make progress toward a sustainable future. The funded projects serve as practical and innovative models for the rest of the State and make measurable contributions toward the long-term goal of a sustainable New Jersey. For example project ideas and how they relate to program actions, view the presentation here.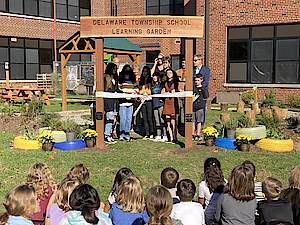 Delaware Township School
Outdoor Classroom
2020 NJEA 2k Grant


Besides funding projects, $2,000 grants can also be used for general green team support such as outreach efforts and capacity-building.
Energy Projects
Due to funding available through incentive programs offered by the utility companies for energy audits and energy efficiency projects (i.e. lightning, furnaces, etc.), these activities are NOT eligible for funding in this cycle.

EV charging station(s) installation projects are NOT eligible for funding. Applicants interested in installing EV charging stations should apply for NJDEP's "It Pay$ to Plug In" program and/or NJBPU's Clean Fleet EV Incentive Program.

&nbsp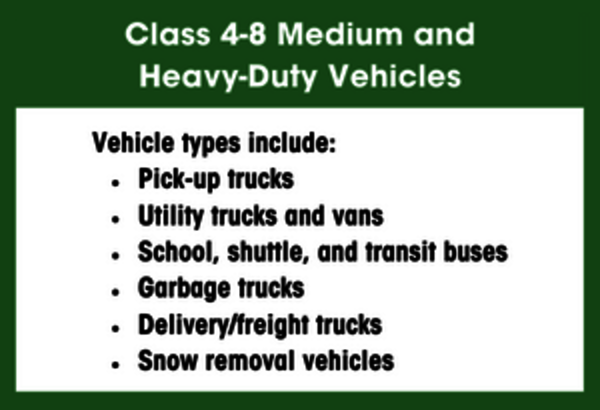 &nbsp

If applicable to your project or municipality, you can also look into the NJ DEP Stop the Soot Grant Program that provides incentives to replace diesel vehicles with electric and for eMobility projects and the NJ EDA's NJ ZIP program that provides Incentives for medium and heavy duty vehicles in select urban areas.

Proposals for energy education, conservation, and/or behavioral change projects ARE eligible. This includes renewable energy equipment such as solar or wind powered equipment that can be utilized in the school curriculum.

See Attachment 1 of the Application Information Packet for a list of additional funding resources for energy-related projects.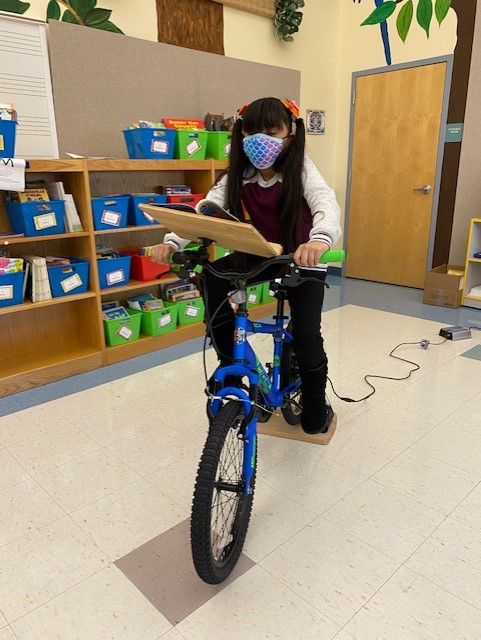 Adelphia School
Green Read and Ride
2019 NJEA 2k Grant
Eligible Expenses
---
Eligible grant expenses include:
Staff stipends
Consultant or contractor service fees (e.g., for content expertise, marketing, and/or technology)
Equipment
Training and educational materials or related expenses
Project supplies
Promotional items - these items should not comprise of more then 10% of the proposed grant budget. Promotional items include "give-aways" such as refillable water bottles, t-shirts, bags, etc., and incentives or awards such as prizes, gift cards, refreshments, etc. Matching or in-kind contributions are encouraged, but not required.
$10,000 Grants
$10,000 grants must be used to fund all or part of a project that will earn points for an action in the Sustainable Jersey for Schools Program.
The project should leverage partnerships with parents and community resources and include an outreach component focused on promoting community awareness of the project.
$2,000 Grants
$2,000 grants can be used for general school green team expenses or for a specific project that will contribute to earning points for an action in the Sustainable Jersey for Schools Program.
Ineligible Expenses
Ineligible expenses include:
Facilities and administrative (overhead) costs
Reimbursement for a project underway or completed is ineligible. Efforts to be funded by the grant should not start until after grant recipients are announced. Planning steps can occur beforehand.