Sustainable Jersey Funding Awarded to 34 School Sustainability Projects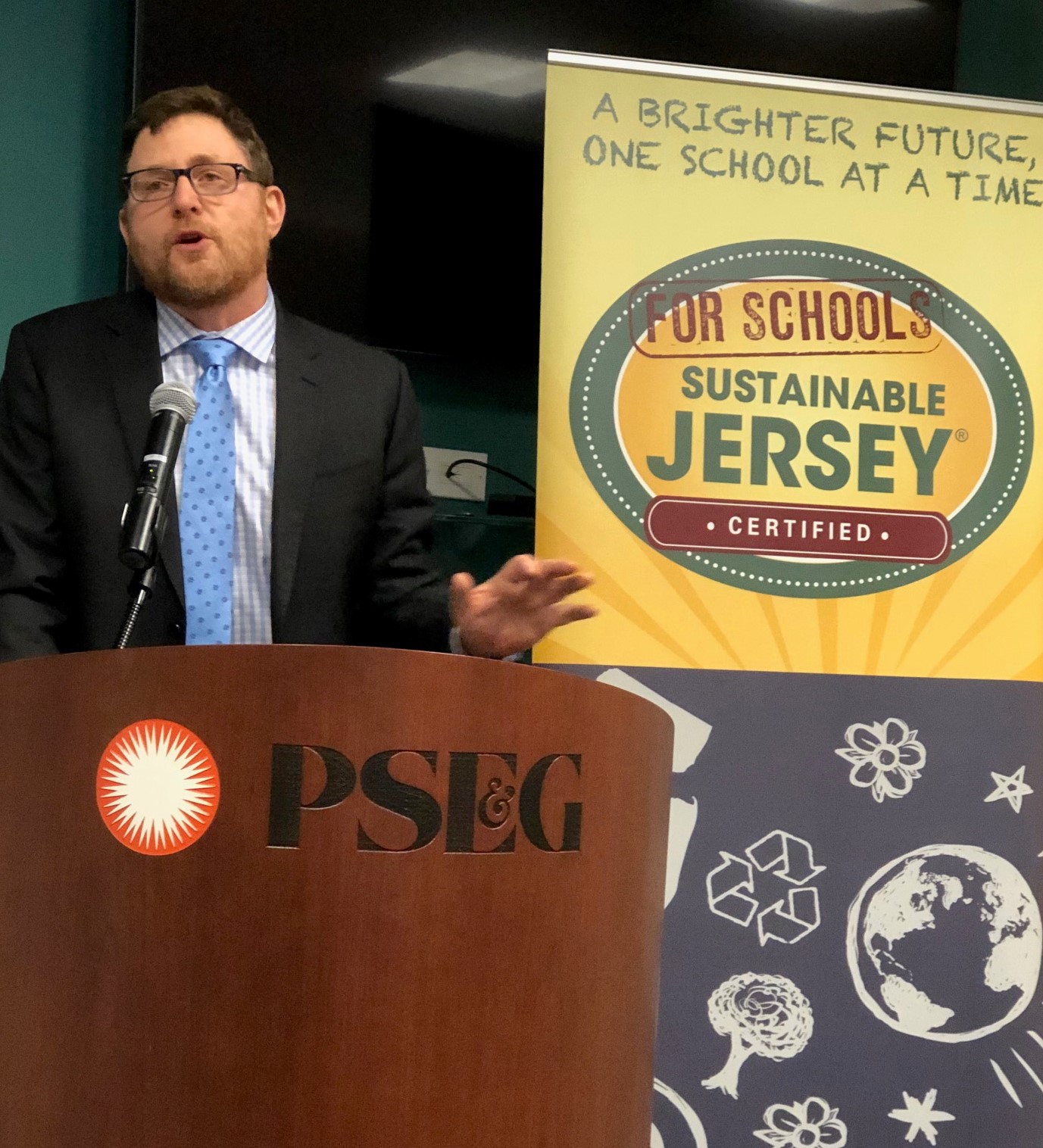 Funded by the PSEG Foundation, grants will impact NJ's sustainability goals and directly benefit students
Sustainable Jersey today announced more than $100,000 in grants to support thirty-four on-the-ground, sustainability and capacity building projects in schools and districts across the state. The Sustainable Jersey for Schools grants, funded by the PSEG Foundation, include four $10,000 grants and thirty $2,000 grants. The grants will fund a water conservation program at Lower Cape May Regional High School, a community orchard and garden at Avon Avenue Elementary School, a cafeteria trash reduction program at Raritan High School, the refurbishment of the STEM greenhouse at the School of S.T.E.M. at the John F. Kennedy Educational Complex's and much more.
"Sustainable Jersey recognizes the innovative sustainability work happening in New Jersey schools. By supporting these efforts, we celebrate the impact being made while working toward solutions for many of the big sustainability concerns that are reaching a crisis point," said Randall Solomon, the executive director of Sustainable Jersey. He extended his congratulations to all of the schools and districts that received grants.
The PSEG Foundation has contributed $1.9 million dollars in funding to the Sustainable Jersey Grants Program. "The PSEG Foundation is passionate about its aim to support and invest in education and workforce development and build and sustain thriving communities," said Barb Short, president, PSEG Foundation. "We are proud to partner with Sustainable Jersey, an organization bringing about real positive change for our state, to help fund projects that foster sustainable neighborhoods, economic development and education. By supporting sustainable education in schools, we can help guide children and engage entire communities in the ways to help create opportunities and transform the environment."
SUSTAINABLE JERSEY FOR SCHOOLS GRANTS RECIPIENTS (project descriptions below):
Four $10,000 Grant Recipients: Avon Avenue Elementary School, Lower Cape May Regional High School, Raritan High School and the School of S.T.E.M. at the John F. Kennedy Educational Complex.

Thirty $2,000 Grant Recipients:  Audrey W. Clark Elementary School, Barack Obama Elementary School, Cape May County Technical High School, Community Park Elementary School, Eisenhower Middle School, Eldridge Park Elementary School, F. W. Holbein Middle School, Fernwood Middle School, Gibbsboro Elementary School, High Bridge Middle School, Hillview Elementary School, Hunterdon County Polytech, Lanoka Harbor Elementary School, Lawrence High School, Mark Newbie Elementary School, Mary E. Roberts Elementary School, Memorial Elementary School, Middle Road Elementary School, Middle Township High School, Oaklyn Public School, Pennsylvania Avenue School, Pequannock Valley Middle School, South Plainfield High School, Stony Brook Elementary School, Three Bridges Elementary School, Washington Township High School, Whitehouse Elementary School, William Davies Middle School, Winslow Township High School and Winslow Township School No. 4 Elementary School.
Proposals were evaluated by an independent Blue-Ribbon Selection Committee. The Sustainable Jersey for Schools grants are intended to help school districts and schools make progress toward a sustainable future in general, and specifically toward Sustainable Jersey for Schools certification. Currently 331 districts and 864 schools have registered to work toward Sustainable Jersey for Schools certification.
Recipients of $10,000 Sustainable Jersey for Schools Project Grants
| | | | |
| --- | --- | --- | --- |
| County | Grant Recipient | District | Project |
| Cape May | Lower Cape May Regional High School | Lower Cape May Regional | Water Champions: The school will use the grant to develop a water conservation program that includes in-class presentations, informational videos, and community outreach on the issues facing the drinking water supply in Cape May County. A 500-gallon cistern will also be installed at the greenhouse as a way to reduce the school's water foot print.  |
| Essex | Avon Avenue Elementary School | Newark | Community Orchard and Garden: This project will bring students, local non-profits, and community members together to create and maintain spaces for growing fruits and vegetables while simultaneously providing a hands-on learning experience. Produce grown in the orchard and garden will be distributed amongst school and local community members. |
| Monmouth | Raritan High School | Hazlet Township | Reduce the Trash! To help facilitate the change from disposable food trays and reduce the amount of solid waste, tray carts and reusable trays for the existing dishware in the cafeteria will be purchased. |
| Passaic | School of S.T.E.M. at the John F. Kennedy Educational Complex | Paterson | STEM Greenhouse: The grant will go towards a cleanup and refurbishment of the school's STEM greenhouse, including the purchase of new equipment and supplies that support instruction in the biology and environmental studies programs. |
Recipients of $2,000 Sustainable Jersey for Schools Project Grants
| | | | | |
| --- | --- | --- | --- | --- |
| County | Recipient School | School District | Project Title | Project |
| Atlantic | Fernwood Middle School | Egg Harbor Township | Self eSTEAM for Girls | The school will implement the "Self ESTEAM" after school program, which addresses the gender gap in STEM fields and low self-esteem of girls. The program will allow middle school girls to empower themselves while exploring and discovering passions in STEAM. |
| Atlantic | Pennsylvania Avenue School | Atlantic City | Eliminating Disposable Plastic Water Bottles | Through the installation of three water bottle refill stations, the school will develop an educational campaign to inform students and staff about the importance of reducing plastic pollution.  |
| Atlantic | William Davies Middle School | Hamilton Township | Rethinking the Waste Stream | The school will support student-led initiatives to promote recycling and educate staff and students on new recycling guidelines. Eighth graders will participate in an engineering design project to design trash and recycling receptacles that will make it easier for the school community to recycle properly. |
| Burlington | Mary E. Roberts Elementary School | Moorestown Township | Food Conservation Program | This grant will prevent un-eaten and un-opened food from entering the waste stream by assisting students with sorting and saving unused food.  The food recovered will be distributed to a local food pantry. |
| Burlington | F. W. Holbein Middle School | Mount Holly Township | Styrofoam Reduction Program | The school will use the grant to eliminate Styrofoam from cafeteria lunches and replace the disposable trays with a more environmentally sustainable option. Students will be involved in the education and outreach surrounding this initiative. |
| Camden | Winslow Township School No. 4 Elementary School | Winslow Township | Fitness Trail and Walking Club | This grant will support Phase I of a fitness trail and Recess Walking Club program to encourage students to be more active during outdoor recess. |
| Camden | Winslow Township High School | Winslow Township | Yoga for Fitness and Stress Reduction | To support the increase in yoga club members, as well as the desire for yoga during physical education classes, additional yoga equipment will be purchased to support the increased interest among students and staff. |
| Camden | Gibbsboro Elementary School | Gibbsboro | Recycling Education | The grant will support the completion of a waste audit to better inform and shape recycling education and recycling practices in the school. |
| Camden | Mark Newbie Elementary School | Collingswood | Raingarden | The school will transform a large area of impervious blacktop into a raingarden to manage stormwater runoff and serve as an outdoor classroom for water conservation education. |
| Camden | Oaklyn Public School | Oaklyn Public | Green Team Support | The grant will be used to support the efforts of the green team, specifically to help them complete their school garden, recruit new members, and work on enhancing the school sustainability curriculum. |
| Cape May | Cape May County Technical High School | Cape May County Technical High | Getting "Bat" to Nature Trail | A nature trail will be developed with bat houses and identification signs for native species of flora and fauna. A camera will be installed so that students can analyze footage and data on the wildlife and environmental changes in the space. The trails will be open to the public with student-led tours. |
| Cape May | Middle Township High School | Middle Township | Ending Plastic Pollution | Through the installation of a water bottle refill station, the school will develop an educational campaign to inform students and staff about the importance of reducing plastic pollution.  |
| Gloucester | Washington Township High School | Washington Township | Eliminating Plastic Water Bottles in Cafeteria | To reduce the use of plastic water bottles, the Environmental Club will purchase and install a water bottle refill station by the cafeteria. This installation will be supported and promoted by an education campaign and by stocking the cafeteria with free reusable water bottles. |
| Hunterdon | High Bridge Middle School | High Bridge Borough | Teaching Healthy Eating | This grant will support a healthy eating campaign through the purchase of a Grab & Go breakfast cart for students and chef demonstrations on how to prepare meals with fresh produce. The school will partner with their cafeteria food provider and a local restaurant that specializes in farm-to-table dining. |
| Hunterdon | Hunterdon County Polytech | Hunterdon County Vocational | Hydration Education | The grant will be used to purchase a water bottle refilling station. This project will promote access to healthy water, reduce plastic use, provide conservation data for students to analyze, and assist the district in their efforts towards Sustainable Jersey for Schools certification. |
| Hunterdon | Three Bridges Elementary School | Readington Township | Indoor Garden Project | Tower gardens will be purchased to extend the growing season of produce indoors and show students that healthy food can be grown during any time of the year. |
| Hunterdon | Whitehouse Elementary School | Readington Township | Sensory Garden | The green team will enhance the school's outdoor sensory garden area by providing a water source, fountain, and bench. The water feature will stimulate students' visual, touch, and auditory senses during outdoor classes. |
| Mercer | Community Park Elementary School | Princeton | Green Team Support | This grant will be used to support the work of the green team's silver certification efforts including completing waste initiatives in the cafeteria and during school events, and forming a student green team. |
| Mercer | Eldridge Park Elementary School | Lawrence Township | Green Team Achievers | The school will use the grant to support the green team's efforts with completing a Sustainable Jersey for Schools certification application in 2020. |
| Mercer | Lawrence High School | Lawrence Township | Green Team Achievers | The school will use the grant to support the green team's efforts with completing a Sustainable Jersey for Schools certification application in 2020. |
| Middlesex | South Plainfield High School | South Plainfield | Outdoor Classroom | The school will create an outdoor classroom with raised beds for gardening. The space will be used primarily by the science and culinary arts students, but will be open for anyone in the school community. |
| Monmouth | Barack Obama Elementary School | Asbury Park | Water is Life | The grant will be used to create a STEAM lab for the school to implement the, "Water is Life," STEAM curriculum. Education and outreach on plastics and the ocean will take place at an Earth Day event. |
| Monmouth | Middle Road Elementary School | Hazlet Township | Outdoor Learning Garden | The school will enhance its outdoor classroom with science, art, music, and composting bins for the garden. Students will be able to utilize easels, a water station, and pagoda bells in their studies. |
| Monmouth | Audrey W. Clark Elementary School | Long Branch | Active Hallways | The school will engage students of multiple learning styles through the implementation of "active hallways," which will help kids learn, retain and gain valuable skills while exercising their body and mind at the same time. |
| Monmouth | Memorial Elementary School | Howell Township | Wellness Program | The grant will be used to design a space for students and staff to practice mindfulness and activities that promote physical activity. |
| Morris | Eisenhower Middle School | Roxbury | EMS Zen Room | The school will create a "zen zone" where the school community can practice mindfulness and reduce stress. Therapy and yoga opportunities will also be offered. |
| Morris | Stony Brook Elementary School | Rockaway Township | Green Team Support | The grant will be used to implement various projects such as a school-wide, in-class planting project linked to curriculum and an enhanced recycling campaign. The recycling club will work to help the school community recycle properly and reduce its use of disposable plastics. |
| Morris | Hillview Elementary School | Pequannock Township | Plastic Waste Reduction | The school will take a multifaceted approach to managing plastic waste by increasing the recycling of approved plastics, limiting the use of plastic bags, and eliminating as much plastic as possible from entering the waste stream. |
| Morris | Pequannock Valley Middle School | Pequannock Township | Greenhouse Project | The school will build a greenhouse with a rain barrel system. The greenhouse will be used to start plants that will later be transferred to the outdoor raised beds and as a teaching tool for teachers to implement into the curriculum. |
| Ocean | Lanoka Harbor Elementary School | Lacey Township | Zero Waste Lunch | The grant will allow the school to enhance its Zero Waste Lunch initiative by purchasing Zero Waste Containers from TerraCycle, purchasing new recycling cans, and working with the municipality to develop signage and educational information to support the school community's efforts to recycle properly. |
Quotes from Select $10,000 Grant Recipients (alphabetical by New Jersey County)
"We are very grateful for this grant as it will help me, as a teacher of environmental sustainability, engage my students with the implementation of real water conservation measures that will benefit the school and our local watershed." - Jeff Martin, Marine Science and Environmental Sustainability Teacher, Lower Cape May Regional High School, Lower Cape May Regional School District, Cape May County
"With the help of the Sustainable Jersey for Schools grant funded by the PSEG Foundation, Avon Avenue School will be able to create a direct correlation between classroom learning and direct civic engagement; which is extremely critical for our DREAMers and for that we grateful." - Charity Haygood, Principal, Avon Avenue Elementary School, Newark Public School District, Essex County
"The Hazlet School District is both privileged and honored to do its part in continuing the conversation regarding sustainability by applying its grant monies toward a tangible product that will provide a serviceable alternative to throw-away plastics." - Dr. Scott Ridley, Superintendent, Hazlet Township School District, Monmouth County
"For quite some time, our greenhouse at the School of S.T.E.M. has been under-utilized.  The funds from the Sustainable Jersey for Schools grant will give our greenhouse a chance to shine and to be utilized to the maximum level. It will be a starting block for our Green Club to grow and a way for our school to join with our students, their families, and the community to promote a better lifestyle through sustainable gardening." - Dante Petretti, Principal, School of S.T.E.M. at the John F. Kennedy Educational Complex, Patterson School District, Passaic County
Quotes from Select $2,000 Grant Recipients (alphabetical by New Jersey County)
"Pennsylvania Avenue School is thrilled to receive the $2,000 Sustainable Jersey for Schools Grant! This grant will enable us to install water bottle filling stations in our school, which will support our green team in building a culture that encourages individuals to choose water as a daily beverage. By doing so, we will promote environmental sustainability as we utilize reusable beverage containers." - Dr. La'Quetta S. Small, Principal, Pennsylvania Avenue School, Atlantic City Public Schools, Atlantic County
"On behalf of the William Davies Middle School learning community, we graciously accept this grant from Sustainable Jersey for Schools to help us further our waste reduction initiative. After completing a school waste audit, we chose to address a finding that both trash and recycling bins contained almost equal amounts of waste! As a result, students designed a waste reduction initiative to educate and incentivize proper recycling throughout the school. Funding will allow students to select and procure new waste receptacles, signage, and printing materials. It will further contribute to our school-wide STEAM initiative; enabling creative student designs on the lids of the recycling receptacles." - Darren Palmer, Principal, William Davies Middle School, Hamilton Township School District, Atlantic County
"Fernwood Middle School in the Egg Harbor Township Schools is honored and excited to receive a Sustainable Jersey for Schools grant funded by the PSEG Foundation to support our Self eSTEAM initiative for middle school females!  We strive to provide opportunities for females to not only bridge the gender gap in STEM, but to help them build confidence, leadership skills, friendships, a strong self-concept, and empowerment within themselves and others.  Our Self eSTEAM initiative will allow middle school females to participate in STEAM and self-esteem activities and projects, attend field trips, and become leaders in the community.  We are so grateful that Sustainable Jersey for Schools appreciates our vision and is willing to support it.  Thank you!" - Gina Wenzel, 6th Grade Math Teacher, Fernwood Middle School, Egg Harbor Township Schools, Atlantic County
"Mary E. Roberts School is excited and thankful to the PSEG Foundation for the opportunity to start a "No Food Left Behind" program funded by the Sustainable Jersey for Schools Grant. It is an amazing opportunity to teach our students lifelong lessons of global responsibility, empathy, and civic consciousness.  The program will prevent unnecessary food waste and immediately benefit our local food pantries and those in need from our community. We look forward to continuing to find innovative ways to teach sustainability and global responsibility to the students of Roberts School, while helping our community and beyond. Receipt of this grant acknowledges all of the hard work our students, staff, and parents have done to this point, and provides the foundation for many more to come!" - Brian Carter, Principal, Mary E. Roberts Elementary School, Moorestown Township Public School District, Burlington County
"Mount Holly middle school students completed the grant for an eco-friendly and healthy change by eliminating Styrofoam in the kitchen and cafeteria. The school district and the students identified the alternatives to Styrofoam, such as biodegradable trays and containers. The grant funds will be used to purchase the biodegradable materials and launch the sustainable efforts in the middle school and two elementary schools in future years." - James DiDonato, Superintendent, Mount Holly Township Public Schools, Burlington County
"The grant provided to Winslow Township Elementary School 4 will allow us to launch a fitness trail to encourage our students to be more active, both during school and outside of the school day. The trail will provide students with fitness activities and healthy living tips, as part of our District's overall efforts to support the health and wellness of our school community." - Dr. H. Major Poteat, Superintendent, Winslow Township School District, Camden County
"The $2,000 grant from Sustainable Jersey for Schools will help Winslow High School expand its existing program to offer yoga to more students throughout the school year, both through our Yoga Club and as part of our physical education curriculum. The incorporation of this new equipment will mean that more students will have access to the health and wellness benefits of yoga, including stress reduction and increased fitness." - Dr. H. Major Poteat, Superintendent, Winslow Township School District, Camden County
"The students, staff members, parents, and School Board members in Gibbsboro are very excited to put our plans into action during the 2019-2020 school year. The financial assistance of this award and the structure provided by the application will help us be successful in increasing our level of recycling and educating our students on the proper ways to recycle. We are proud to be working on our Sustainable Schools certification steps and we appreciate the time and effort put forth to create this grant opportunity for us." - Jack Marcellus, Superintendent, Gibbsboro School District, Camden County
"In an effort to improve the school's play area and reduce storm water runoff, the Mark Newbie Elementary School will utilize its Sustainable Jersey Grant award funded by the PSEG Foundation to develop an outdoor classroom with adjacent rain garden. Our elementary school community is excited about this upcoming and long hoped for project! The classroom and rain garden will transform a large expanse of impervious blacktop into a valuable student space. One that will act as a vital teaching tool dedicated to increasing quality learning experiences for our students as well as contribute towards the protection of an important natural resource." - Steven Smith, Principal, Mark Newbie Elementary School, Collingswood Public School District, Camden County
"Oaklyn Public School would like to thank Sustainable Jersey for Schools and the PESG Foundation for awarding our school with the $2,000 grant.  Our newly established School Green Team is excited to use this funding to reinvigorate our eco-friendly PreK-5 school programs focusing on waste reduction, recycling and energy efficiency.  Receiving this grant has also made it possible for us to begin building our new school garden." - Jennifer J. Boulden, Principal and Green Team Member, Oaklyn Public School, Oaklyn Public School District, Camden County
"The Getting "Bat" to Nature Trail will lead our students on a path to environmental stewardship.  With the development of a nature trail and the construction of bat houses students will be part of supporting indigenous species of flora and fauna, as well as collecting animal habitat data through nature trail recordings. Bats are able to consume over 3,000 mosquito-sized insects in just one night and target pests like tent caterpillars which are having a local negative effect on black cherry trees in our region. However, the bat population in New Jersey is in decline due to habitat loss, white-nose (fungus) syndrome, maltreatment by man and disturbance to the hibernation cycle. By building and installing bat houses on our school grounds, we can help home bats that have been displaced by deforestation, and work to protect our sensitive ecosystems." - Dr. Nancy Hudanich, Superintendent, Cape May County Technical High School District, Cape May County
"Middle Township High School would like to thank Sustainable Jersey and the PSEG Foundation for their generous grant for $2000.  With our established Green Team, we look forward to continuing to add "Green" practices within our school walls.   With this grant, we will add another water filtration system for our staff and students." - George West, Principal, Middle Township High School, Middle Township Public School District, Cape May County
"On behalf of Washington Township Public Schools and our school's Green Team at Washington Township High School, we are grateful to be selected as recipients of the Sustainable Jersey for Schools Grant.  The generosity of this group and the PSEG Foundation will support our efforts to improve building level recycling initiatives.  This funding will allow us to offer for our students and staff additional water refill stations that will help us to reduce waste that is so prevalent with disposable water bottles.  We are very excited to see this plan come to life!" -Jonathon Strout, Principal, Washington Township High School, Washington Township School District, Gloucester County
"Our goal is to provide students with a culture that promotes success. To achieve that goal, students need to be properly fueled with healthy foods that support the brain and provide the energy they need. We are grateful to Sustainable Jersey for providing funding to foster this endeavor." - Richard Kolton, Principal, High Bridge Middle School, High Bridge Borough School District, Hunterdon County
"We are thrilled to teach and practice sustainability in our community. Thank you to Sustainable Jersey for providing generous funds and a valuable framework by which to grow our impact." - Dan Larkins, Grant Coordinator, Hunterdon County Vocational School District, Hunterdon County
"Three Bridges School is thrilled to have been selected to receive a $2000 Sustainable Jersey for Schools grant. We are excited to begin utilizing the indoor vertical gardens to grow healthy food for our students to cultivate and, of course, eat. This gardening system is a great alternative to the outdoor garden, where seasons, extreme weather and critters adversely affect the crop. When children are included in growing healthy foods, they are more willing to try new items, and they get excited about fruits and vegetables. This hands-on learning experience will encourage our students to find other alternatives to growing foods in a world where perfect farming conditions may be tough to find." - Kristen Higgins, Principal, Three Bridges Elementary School, Readington Township School District, Hunterdon County
"As a school community, we place great emphasis on outdoor learning and social-emotional development.  We are very grateful because our Sustainable Jersey grant will help us to better merge both of these areas.  We will use the money to enhance our sensory garden by installing plumbing, an outdoor faucet, a fountain, and a reading bench.  Students can then more easily water the various plants in our garden, and teachers will showcase the beautiful space while facilitating mindfulness practices with their classes." - Dr. Ann DeRosa, Principal, Whitehouse Elementary School, Readington Township School District, Hunterdon County
"The Princeton Public Schools are committed to wellness -- for our people and our planet.  It is an honor to be selected for funding by Sustainable Jersey and their partners for our continued effort in cultivating sustainable practices in our schools.  These funds, together with the hard work and dedication of our community members and staff, make it possible to achieve environmentally responsible schools and a sustainable future for our children." - Steve Cochrane, Superintendent, Princeton Public Schools, Mercer County
"We appreciate the support from Sustainable Jersey and are very excited to work with them again to create educational opportunities through new endeavors to reduce our environmental impact in the Princeton Public Schools."- Edward Cohen, Supervisor of Science, Community Park Elementary School, Princeton Public Schools, Mercer County
"We thank the PSEG Foundation and Sustainable Jersey for Schools for supporting our efforts in building a solid District Green Team for our seven schools.  The two grants awards for Lawrence Township Public Schools are gladly accepted and the funds will be used to provide our schools with stipends for Green Team Leaders.  Our Green Team Leaders will continue to promote sustainability and wellness for students, staff, and our community of stakeholders in Lawrence Township." - Cari Gallagher, District Green Team Leader, Lawrence Township Public Schools, Mercer County
"On behalf of the administration, student body, and Green Team we would like to thank the PSEG Foundation and Sustainable Jersey Schools for the generous grant. These funds will help us to accomplish our dreams of an outdoor classroom. Our staff and students can't wait to enhance learning and increase mindfulness when in touch with nature. We are so grateful to be able to provide a beautiful learning environment in our school, and it could not have been done without you!" - Students, Environmental Science Club, South Plainfield High School, South Plainfield School District, Middlesex County
"Hazlet is both honored and appreciative to participate in this timely and relevant initiative. Bringing the idea of 'sustainability' to the forefront of educational issues is a noble venture and, as a District, we are proud to be part of the conversation." - Scott Ridley, Superintendent, Hazlet Township Public School District, Monmouth County
"Middle Road School is proud to be a part of Sustainable Jersey. It is an honor to have been chosen to receive this Sustainable Jersey for Schools grant funded by the PSEG Foundation which will be used to upgrade and improve our school garden to create an interactive learning environment which will integrate art, music, and science lessons in an outdoor setting." - Loretta Zimmer, Principal, Middle Road Elementary School, Hazlet Township Public School District, Monmouth County
"The dominant model for formal learning in most schools still require a desk and chair as well as a presenter of knowledge. We have learned that a strong connection exists between physical movement and improved cognition, which should allow us to flip the traditional framework on its head. Recently, we have explored increased movement in learning activities and believe students are better prepared to receive and engage in the learning process. This grant helps to increase structured movement during transitions and times of physiological need." - Dr. Michael Salvatore, Superintendent, Long Branch Public School District, Monmouth County
"Memorial Elementary School's 'PAWS for Wellness' grant will help educate students in the area of social, emotional and physical wellness as well as provide resources which will assist in the creation of a wellness space to be utilized by all students and staff." - Raymond Gredder, Principal, Memorial Elementary School, Howell Township Public School District, Monmouth County
"Stony Brook School is fully committed to building a cleaner, brighter future.  The grant money provided by Sustainable Jersey allows us to expand and improve our recycling efforts, while instilling a sense of responsibility and action among our school community.  We are very excited to have been named a recipient of this year's grant." - Stephen J. Wisniewski, Principal, Stony Brook Elementary School, Rockaway Township School District, Morris County
"It is exciting to see our students and staff take a more mindful approach not only for sustainable practices, but also for developing healthy habits. We have seen a district wide commitment both in and out of the classroom." - Michael Portas, Principal, Hillview Elementary School, Pequannock Township School District, Morris County
"Learning about the importance of sustainable practices and developing healthy habits is essential for ensuring the safety of our future.  Watching our staff and students, not only at Pequannock Valley School but throughout the Pequannock Township School District, embrace this lifestyle choice has been both rewarding and enlightening." - Richard Hayzler, Principal, Pequannock Valley Middle School, Pequannock Township School District, Morris County