Sustainable Business Leadership Award
---
This award recognizes New Jersey companies that demonstrate a significant commitment to the core sustainability principles of people, planet, and prosperity, along with strong support for values that the Sustainable Jersey for Schools program advances.
2020 Recipient: Maschio's Food Services
Maschio's Food Services is an outstanding example of how a food service company can take sustainability and community responsibility seriously and contribute locally to improving the quality of life in New Jersey. In a unique arrangement, Maschio's provides locally grown produce to schools directly from farms.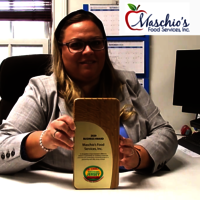 Last year, Maschio's collaborated with Race Farm, a fourth-generation family farm located in Blairstown, New Jersey. The farm has 2.5 acres of dedicated farmland to exclusively grow Maschio's produce. Maschio's is also at the forefront of promoting fresh, local foods as menu items in schools through their Farm to School Program and participation in the Buy Fresh Buy Local program. Maschio's partnered with the BottleBox company to create sustainable food containers made from recycled plastics and bottles. With BottleBox, Maschio's used 3.8 million recycled bottles last year saving 89,040 pounds of plastic from ending up in the landfill. Maschio's is a much-needed sustainability partner to all of the schools they serve.