2021 - 2022 School Awardees
---
The 2021 – 2022 school year awardees were announced at the Climate Challenge Awards Ceremony on June 8. The ceremony was hosted by First Lady Tammy Murphy at Drumthwacket, the Official Residence of the Governor of New Jersey.



Congratulations!


---
Middle School Category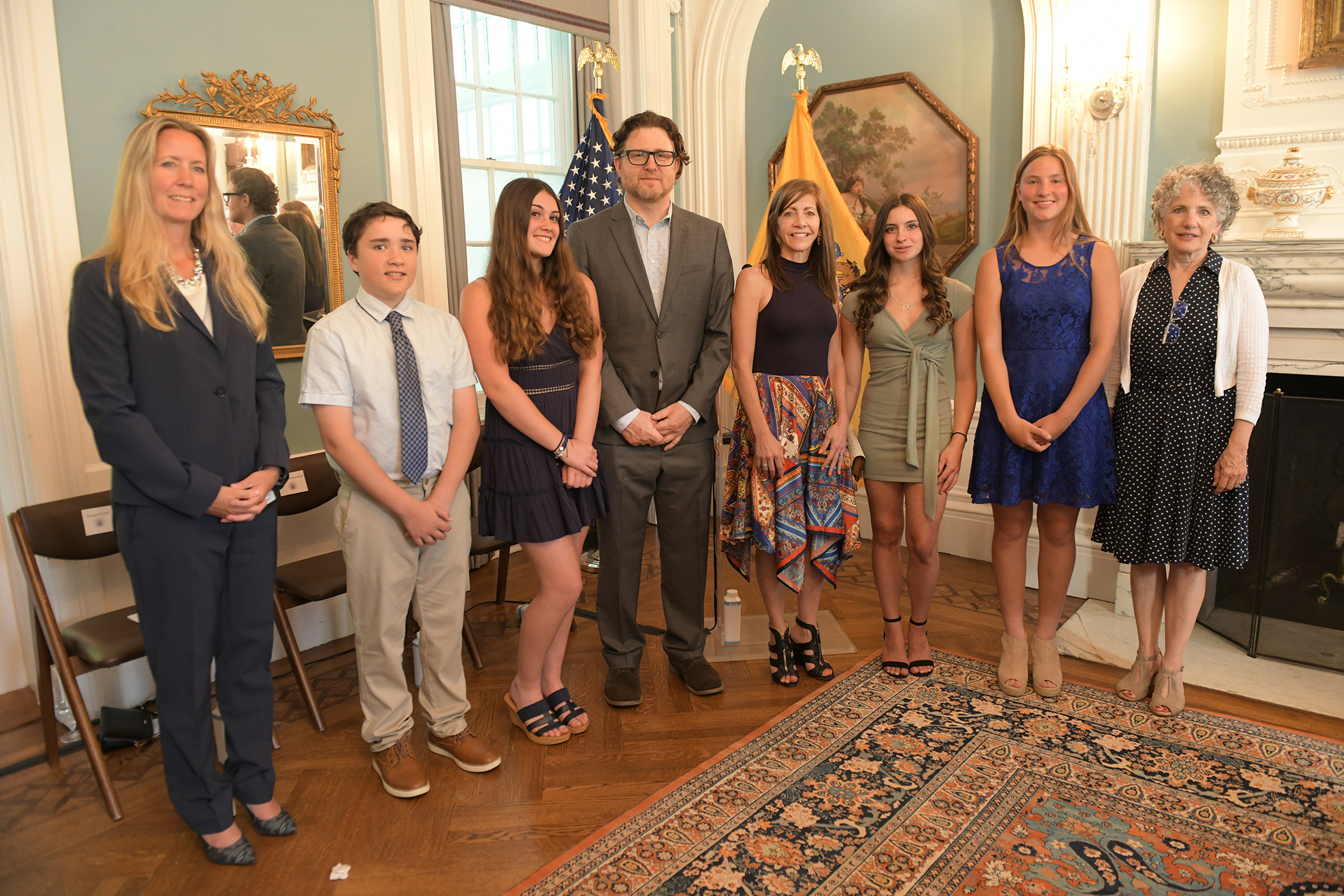 1st Place - $2,500 School Grant Award


Compost United, Howell Township Middle School South, Howell Township Public School District


Team Members: Kennedy Brennan, Gianna Chapins, Robert Daly, Sofia LaRosa


Teacher Mentor: Danielle Gianelos


Project Summary: After reaching out to the Howell Environmental Commission and school green team the Compost United team decided to focus on implementing a composting program at their school. They crowd sourced funding to purchase two composters and cleaned out old compost bins at their school and now they are composting cafeteria scraps and using the compost in their school garden. Through this project they are reducing the amount of waste their school sends to the landfill thereby reducing greenhouse gas emissions and increasing the carbon stored in their school garden soil.


2nd Place - $1,000 School Grant Award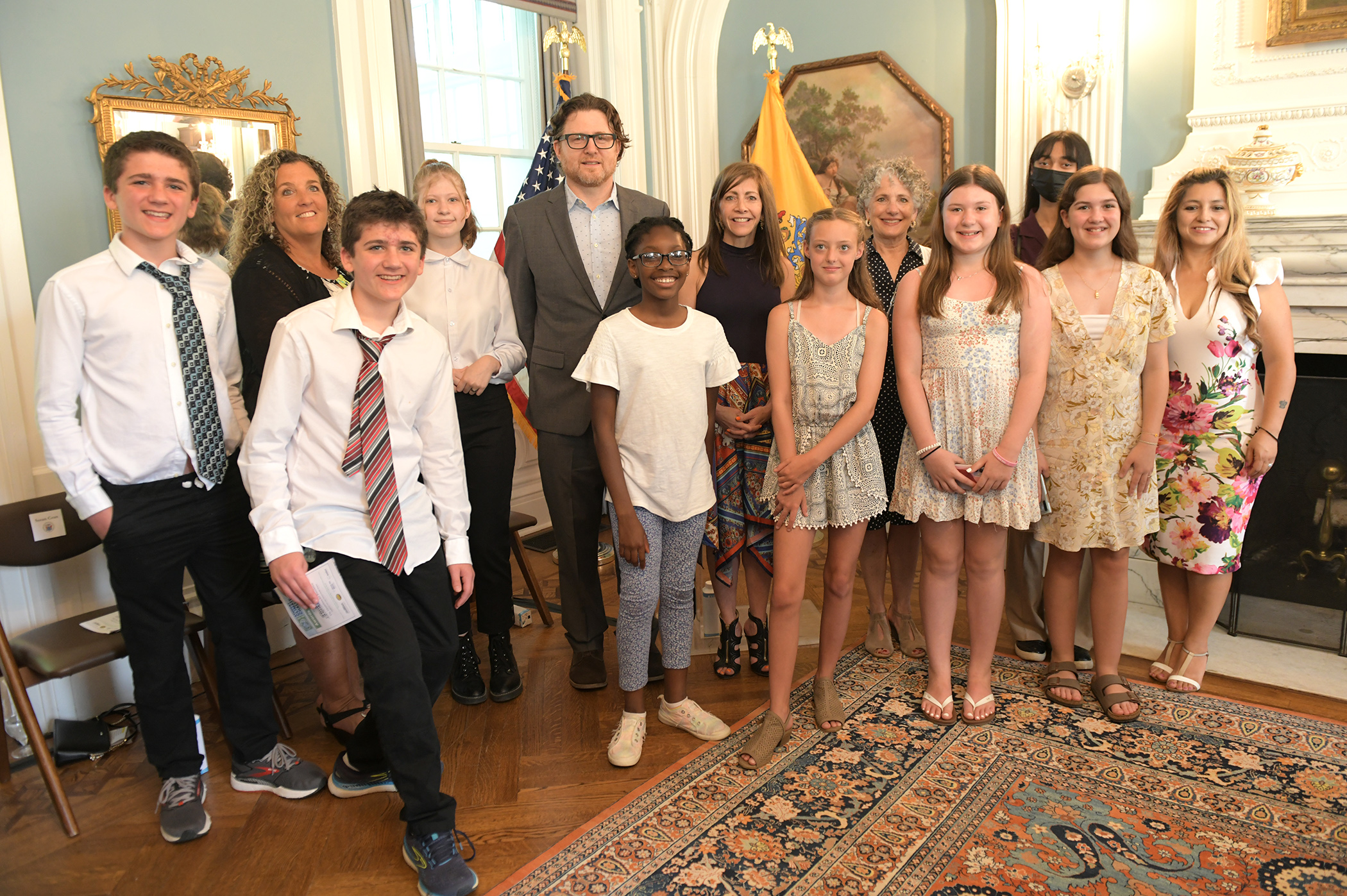 Lake Riviera Green Team, Lake Riviera Middle School, Brick Township Public Schools
Team Members: Rory Bray, Frankie Civitano, Kyle Danielson, Noah Danielson, Madeline Drobny, Shealyn Mooney, Krupa Patel, Zain Voegborlo


Teacher Mentors: Pamela Evans & Dawn Byrne


Project Summary: The Lake Riviera Green Team educated their school community about the connection between plastic production and climate change. They learned that plastic is made from fossil fuels and emits greenhouse gases through all stages of its life cycle. Their team sold reusable water bottles to offer a great alternative to single-use plastic water bottles.


3rd Place - $500 School Grant Award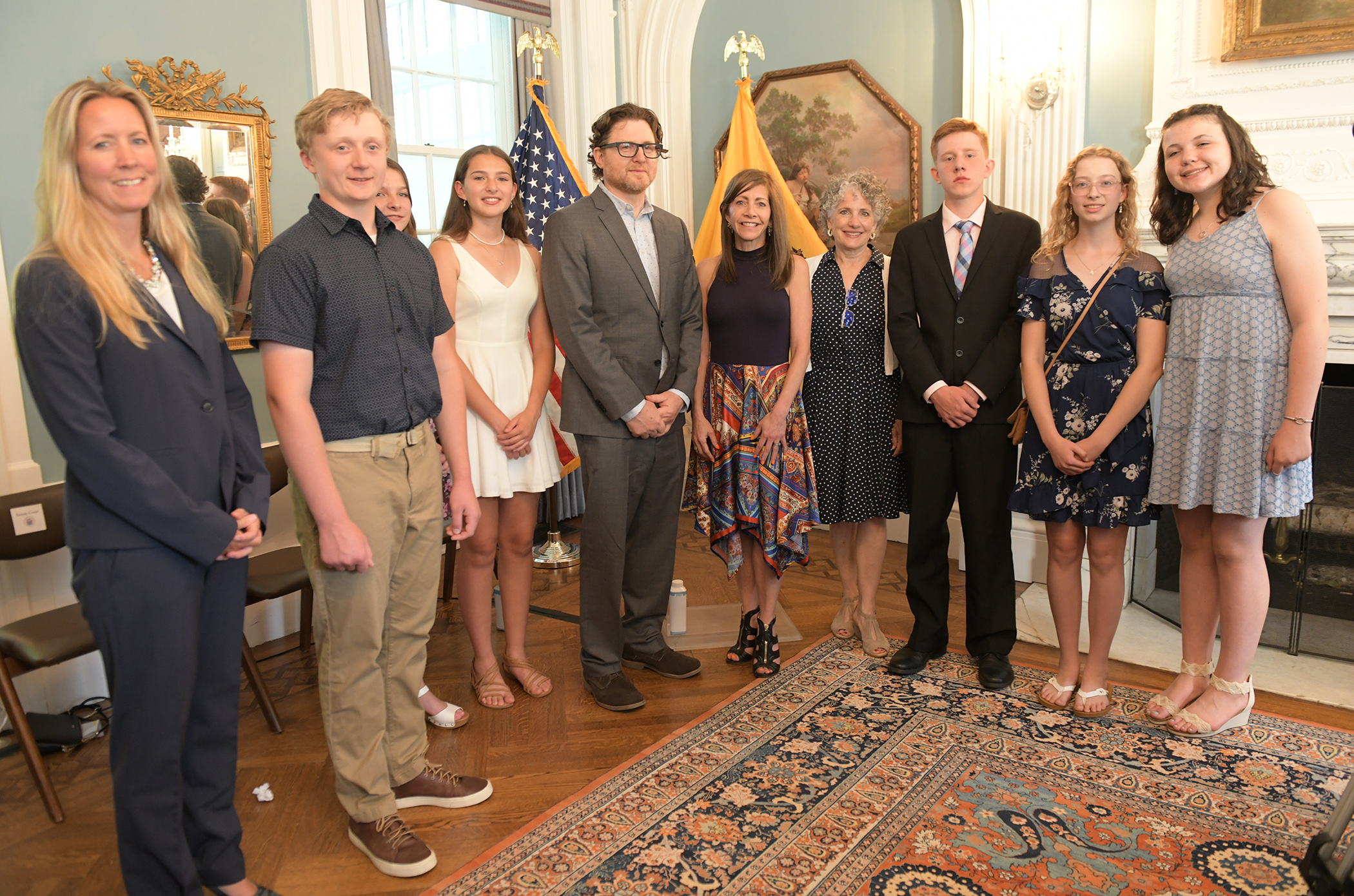 The Fantastic Plastics, Howell Township Middle School South, Howell Township Public School District


Team Members: Konstanine Mackanic, Eve Maulshagen, Mikayla Morin, Andrew Prodeline, Amelia White, Anna Wolak


Teacher Mentor: Danielle Gianelos


Project Summary: The Fantastic Plastics created an awareness campaign about the need to recycle plastic film and then collected 521lbs of plastic film and sent it off to be recycled. By diverting this plastic waste from landfills and incinerators they have cut down emissions of greenhouse gases such as carbon dioxide.


High School Category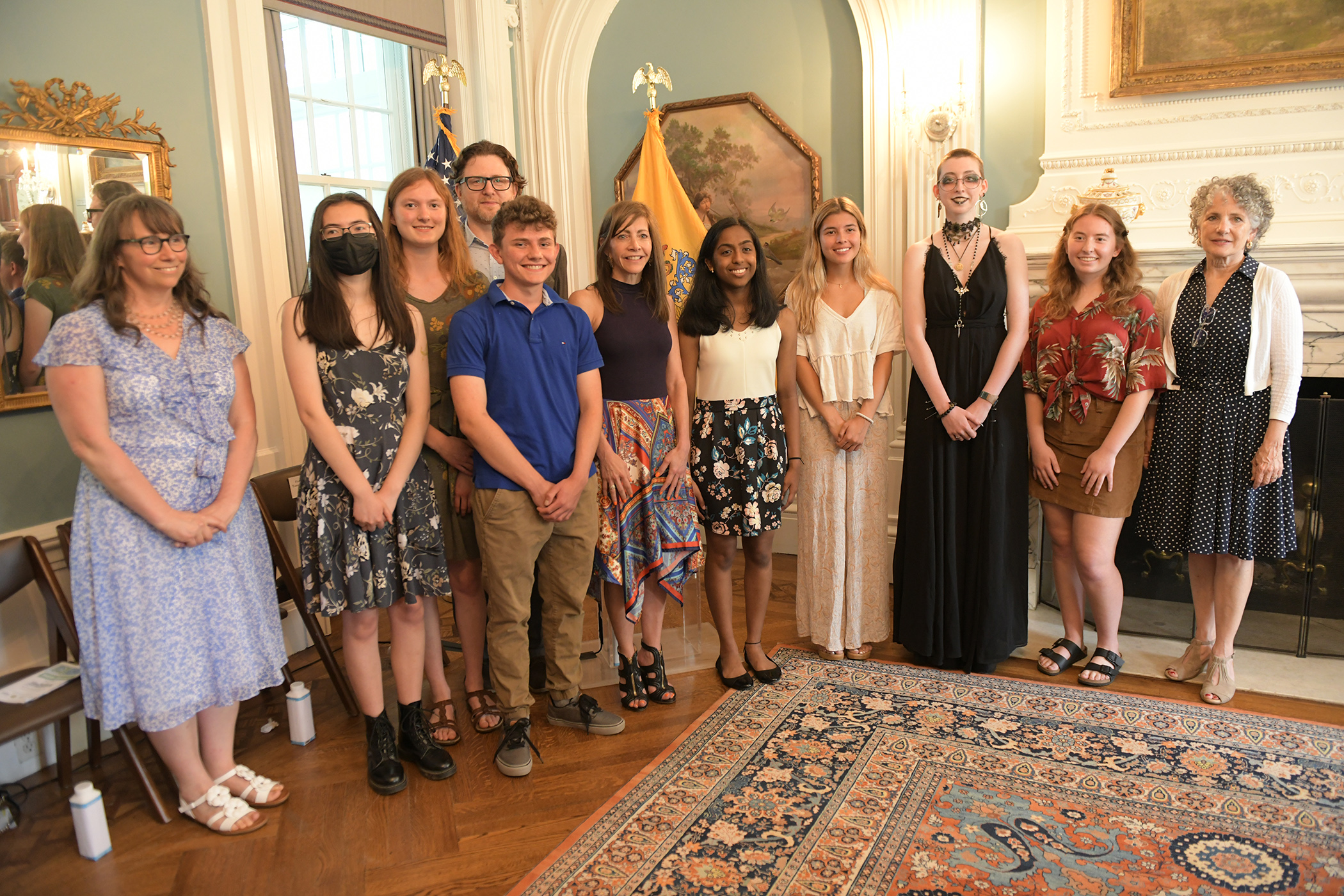 1st Place - $2,500 School Grant Award
Youth Environmental Society, Central High School, Hopewell Valley Regional School District
Team Members: Kevin Amon, Akhansha Arvind, Annika Ault, Nadia Chasalow, Angelina Graf, Daphine Newton, Abigail Rise


Teacher Mentor: Carolyn McGrath


Project Summary: The Youth Environmental Society authored a 28-page Climate Action Proposal that addresses clean energy, clean transportation, sustainable food use, sustainable school grounds, and more. The team presented their plan to the board of education and is working towards getting the plan adopted.


2nd Place - $1,000 Grant Award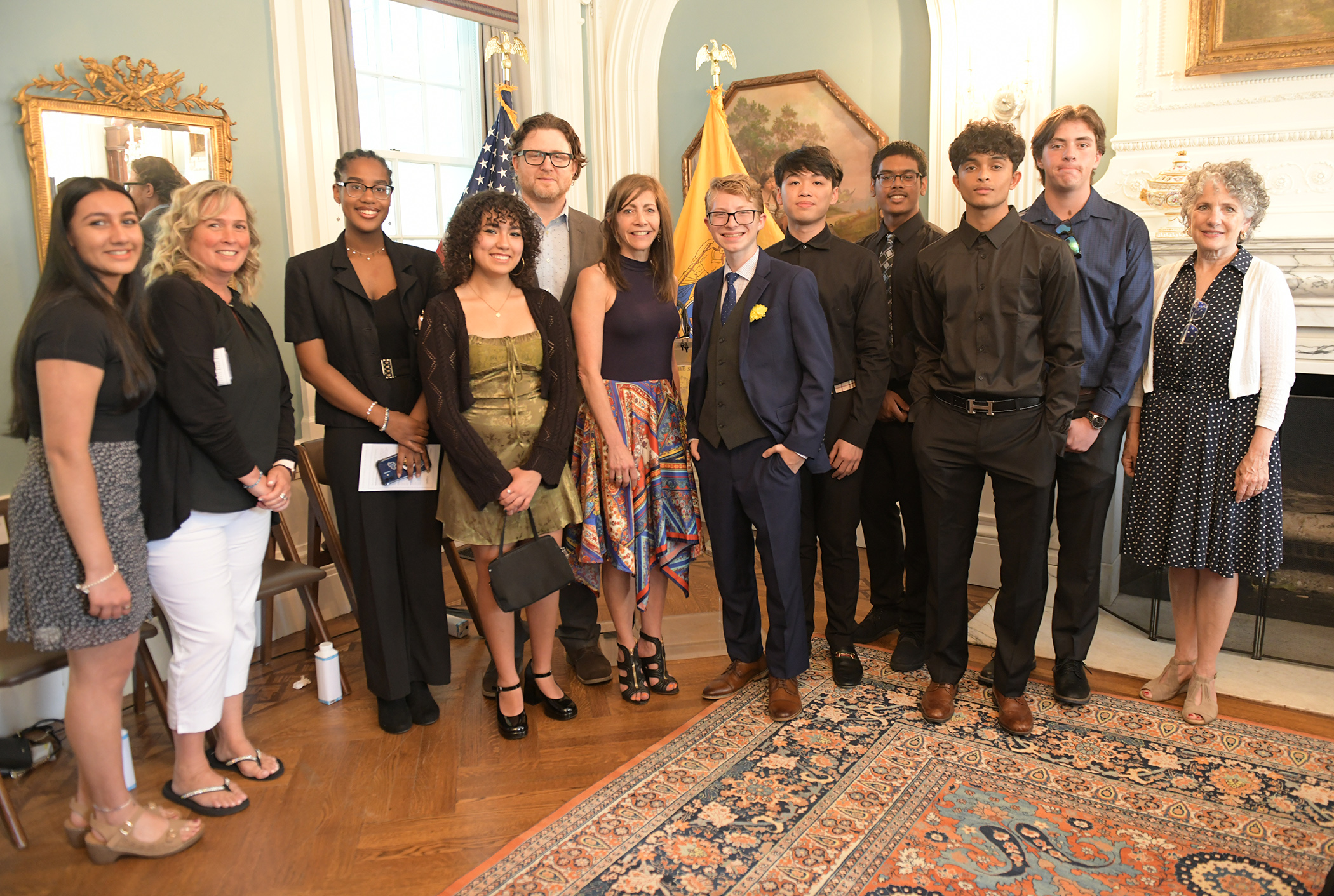 Buy Local/Bye Climate Change, South Plainfield High School, South Plainfield School District


Team Members: Gerrolin Beauzille, Vishan Budhan, Salma Egebally, Dylan Jefferys, Eric Nguyen, Deep Patel, Pari Patel, Timothy Prisk


Teacher Mentor: Kathleen Benton


Project Summary: Buy Local/Bye Climate Change team embarked on a comprehensive campaign to encourage the school community to eat local and buy local. In addition to stimulating the local economy, purchasing locally grown foods, goods, and services reduces greenhouse gas emissions in the transportation sector. This is especially critical in New Jersey where transportation is the largest source of greenhouse gas emissions accounting for over 40% of total emissions.


3rd Place - $500 Grant Award
Team E-Bike Share, Penns Grove High School, Penns Grove Carneys Point Regional School District


Team Names: Jacob Betts, Ja'Niyah Brown Boulder, Najee Ceaser, Yuleidy Cordero Feliciano, Curtis Gould, Myelle Green, Bailey Ricks, Ja'Kai Taylor, Tohrn Taylor, Richard Wright


Teacher Mentor: Vicki Palaganas


Project Summary: Team E-Bike share is actively pursuing a grant for an E-Bike fleet that can used by students not eligible for busing. Their school has limited busing, so their plan aims to provide a clean transportation alternative for students and cut down on emissions from vehicles waiting to drop students off. The team held a forum in April where they presented the research they conducted for the grant application to a wide range of stakeholders including the mayor and representatives from DEP.


Thank you to all the teachers and students who participated in the New Jersey Student Climate Challenge in the this year!



2022 - 2023 Climate Challenge
---
The New Jersey Student Climate Challenge encourages public school middle and high school students to identify and complete a school or community project to address a cause or impact of climate change and create a short digital story video to share what they have accomplished. View the Climate Challenge Teacher Guide or Student Guide for more detailed information.
The 2022 – 2023 school year Challenge will launch in early October. Join our mailing list to get biweekly updates that include the latest information on Sustainable Jersey for Schools programs, events and funding opportunities, and other information to help advance your school's sustainability efforts.
Questions?
Email: njstudentclimatechallenge@sustainablejersey.com

New Jersey Student Climate Challenge Partners