42 NJ Schools and Districts Get Grants to Bring Sustainability Ideas to Life
Funded by NJEA, projects include hydroponic garden towers, outdoor classrooms and school wellness programs
Today, Sustainable Jersey for Schools announced the 42 New Jersey public schools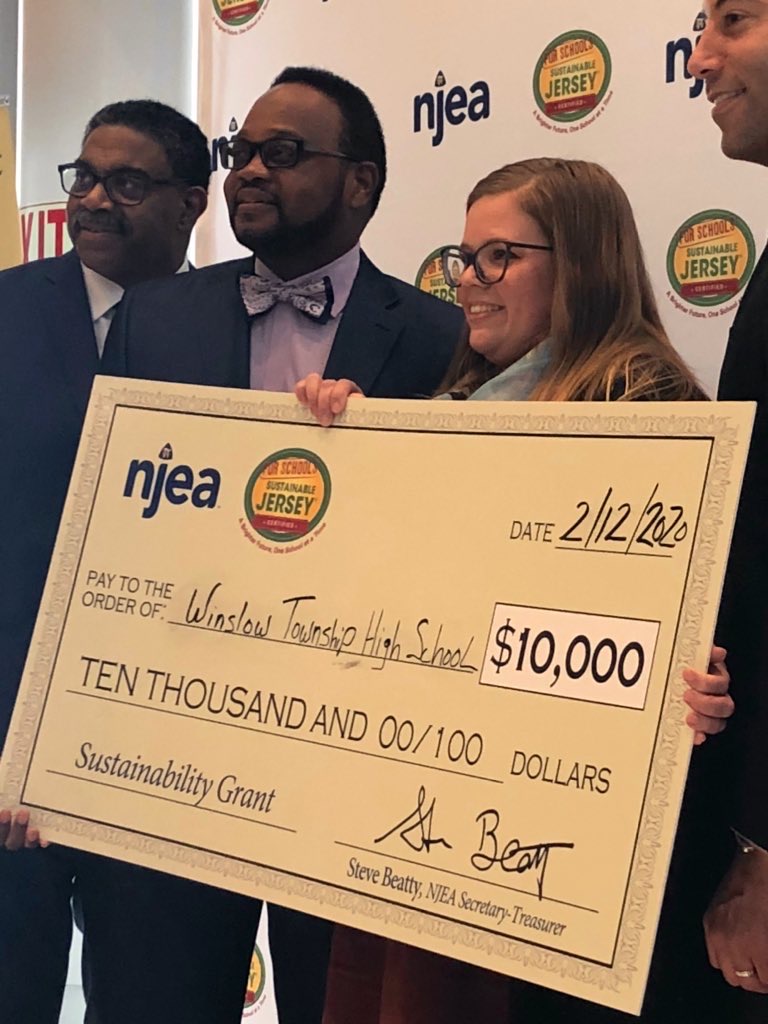 and districts selected to receive Sustainable Jersey for Schools grants funded by the New Jersey Education Association (NJEA). Twelve $10,000 grants and thirty $2,000 grants were distributed to support a variety of projects including hydroponic garden towers, outdoor classrooms, school gardens, water bottle refilling stations, school wellness programs, cafeteria composting, student green team capacity building and more.
With this contribution NJEA has provided $1.25 million to support a sustainable future for children across the state through the Sustainable Jersey for Schools program. "It is our responsibility to care for our planet, protecting it, making sure that the ways in which we interact with it are sustainable," said NJEA Vice President Sean M. Spiller. "As educators, we bear a heavier mantle of responsibility because not only do we need to care for our own footprint but educate our students and communities to do the same -- to become engaged citizens, global leaders in saving and protecting our planet. NJEA is honored to continue our work with Sustainable Jersey as we direct resources into our schools that will support these innovative programs." In addition to grant funding, NJEA supports Sustainable Jersey for Schools as a program underwriter.
"These grants encourage our schools and districts to foster innovative sustainability initiatives that make their schools better stewards in their communities," said Sustainable Jersey Executive Director Randall Solomon. "Sustainable Jersey for Schools grants catalyze school-centered sustainability programs and support the creative superintendents, principals, teachers, students and parents who are leading them." Proposals were judged by an independent Blue-Ribbon Selection Committee. The Sustainable Jersey for Schools grants are intended to help school districts and schools make progress toward a sustainable future in general, and specifically toward Sustainable Jersey for Schools certification.
Recipients of $10,000 Sustainable Jersey for Schools Project Grants (alphabetical by county)
| | | | |
| --- | --- | --- | --- |
| County | School District | $10k Recipient | Description |
| Camden | Bellmawr | Bellmawr School District | Hydroponic Garden Towers: The district green team will help each school implement a sustainable gardening program through the use of hydroponic garden towers. Bellmawr is an urban district without a lot of open outdoor space. The towers are an excellent way to bring gardening and nutrition education into the curriculum. |
| Camden | Camden City Public Schools | Veterans Memorial Family School | Improving Access to Fresh, Healthy, Locally-Grown Food Program: The school will construct a garden in its courtyard that will be maintained by the school garden club and open for the whole community--staff, students and their families—to use for growing and harvesting produce. Camden is known as a food desert, so this garden will provide access to fresh, healthy, locally-grown food. |
| Camden | Winslow Township | Winslow Township High School | Outdoor Classroom for Sustainability Lessons: The school will create an outdoor classroom to support the curriculum of the Environmental STEAM class, the AP Environmental Science class and the Environmental Club. The space will also be available for use by other classes. Parents and community members will be invited to help construct a garden in the space complete with educational signage. |
| Cape May | Cape May County Technical High | Cape May County Technical High School | Farm to Table; Seed to Seed Program: The school will create a school garden that will yield produce for its restaurant, The American Bounty Cafe, and seeds that will be added to the town's very first seed library to be located in the school. Students in the Ag Science Career and Technical Education program will be responsible for maintaining the garden and seed library. |
| Hudson | Jersey City Public Schools | Dr. Michael Conti No. 5 Elementary School | Music Theater Club: The school will be supporting its Music Theater Club with its production of a live musical performance every year.  Students will be engaged both as actors and the tech crew. With the help of community partnerships, this initiative will improve student access to the arts. |
| Mercer | Trenton | Parker Elementary School | Parker Panthers Pounce on Health! Program The school, with the help of community partners, will create a "culture of health" by establishing a School Wellness Council, conducting a School Health Index, and implementing plans to improve nutrition and increase physical activity of staff, students, and parents. There are plans for a healthy non-food rewards program, additional recreational sports programs, and more. |
| Middlesex | South Plainfield | South Plainfield High School | Water we going to do next? Project: The school will support a student-led movement to reduce its use of plastic water bottles by replacing faulty fountains with new water bottle refilling stations. The school will work with the town to promote the campaign and provide education on the issues of plastic waste to the entire community. |
| Monmouth | Howell Township | Howell Township Middle School South | Feeding Howell's Minds and Bodies Program: The school will build an outdoor classroom with a greenhouse to support its sustainable gardening program that educates students and feeds the community. Students will grow seedlings for the "Plant A Row for the Hungry" program and the town's community garden. |
| Monmouth | Howell Township | Memorial Elementary School | Better Your S.E.L.F.: Memorial School's Social Emotional Learning and Fitness Program: The school will create "Wellness Way"--a hallway in the school that focuses on social-emotional learning and fitness. Wellness Way will include a Wellness Lounge, a Greenhouse Therapy Room, and a Sensory Fitness Hallway designed to help students with special social, emotional, and physical needs and available for use by all staff and students. |
| Monmouth | Spring Lake Heights | Spring Lake Heights School District | Growing to New Heights: Outdoor Classroom: The school will construct an outdoor classroom in its courtyard that will offer sustainable gardening and composting lessons to students and senior residents in the FulfillNJ program. The space will also be used by students in the Suburban Urban School Healthy Initiative (SUSHI), a program that sends kids from across the county to a local farm where they learn collaboration and gardening practices then share what they learned with classmates. |
| Ocean | Jackson Township | Jackson Township School District | DNA Barcoding of Living Things Program: The District will offer a new class to high school students called Authentic Science Research that will include the DNA Learning Center's "Using DNA Barcodes to Identify and Classify Living Things" lab. This class will give students the opportunity to identify native plant and/or insect species in the community at the molecular level through DNA barcoding. Through data analysis and mentorship from partnering community organizations, students will understand the importance of biodiversity in the ecosystem. |
| Salem | Oldmans Township | Oldmans Township School District | Outdoor Classroom for the Community: The school will create an outdoor classroom in partnership with a local landscaping company next to the school garden. The space will be available as a resource to teachers, as well as the community, including the town's green team, to use in their efforts to promote and implement sustainability initiatives. |
Recipients of $2,000 Sustainable Jersey for Schools Project Grants (alphabetical by county)
| | | | |
| --- | --- | --- | --- |
| County | School District | $2k Recipient | Title |
| Bergen | New Milford | David E. Owens Middle School | Cafeteria Composting Program |
| Bergen | Pascack Valley Regional High | Pascack Valley High School | Beekeeping Program |
| Burlington | Tabernacle Township | Tabernacle Elementary School | Exploring Sustainability in the Rain Garden Program |
| Camden | Winslow Township | Winslow Township Middle School | Student and Staff Physical Wellness Program |
| Camden | Winslow Township | Winslow Township School No. 1 Elementary School | School Courtyard Garden |
| Camden | Winslow Township | Winslow Township School No. 2 Elementary School | Walking Story Trail |
| Camden | Winslow Township | Winslow Township School No. 5 Elementary School | STEAM Fair Support |
| Essex | Caldwell - West Caldwell | Jefferson Elementary School | Sustainability Mentors Program |
| Essex | Montclair | Edgemont Elementary School | Outdoor Learning Classroom |
| Essex | West Orange | Roosevelt Middle School | Student Composting Program |
| Hudson | Jersey City | Charles E Trefurt School PS#8 | Carbon Sequestration Garden |
| Monmouth | Howell Township | Adelphia School | Green Read and Ride Program |
| Monmouth | Howell Township | Aldrich Elementary School | Water Bottle Refilling Station |
| Monmouth | Howell Township | Ardena Elementary School | Water Bottle Refilling Station |
| Monmouth | Howell Township | Edith M. Griebling Elementary | Water Bottle Refilling Station |
| Monmouth | Howell Township | Greenville School | Water Bottle Refilling Station |
| Monmouth | Howell Township | Howell Township Middle School North | Water Bottle Refilling Station |
| Monmouth | Howell Township | Land O'Pines Elementary | Water Bottle Refilling Station |
| Monmouth | Howell Township | Newbury Elementary School | Water Bottle Refilling Station |
| Monmouth | Howell Township | Ramtown Elementary School | Water Bottle Refilling Station |
| Monmouth | Howell Township | Taunton Elementary School | Water Bottle Refilling Station |
| Monmouth | Monmouth Beach Elementary | Monmouth Beach Elementary | Waste Management Improvement Project |
| Monmouth | Roosevelt | Roosevelt Elementary School | Garden and Cooking Club |
| Morris | Rockaway Township | Copeland Middle School | Sustainable Waste Management and Recycling |
| Morris | The Chathams | Chatham High School | Green Team Support for Certification |
| Sussex | Andover Regional | Florence M. Burd Elementary | Water Bottle Refilling Station |
| Sussex | Andover Regional | Long Pond School | Water Bottle Refilling Station |
| Sussex | Stillwater Township | Stillwater Township Elementary School | Green Team Support: Let's Get Silver! Program |
| Union | Mountainside | Beechwood School | Water Bottle Refilling Station |
| Warren | Lopatcong Township | Lopatcong Elementary School | School Garden-to-Table Program |
Quotes from $10,000 Grant Recipients (Listed alphabetically by county)
"Our Learning Community is anxious to extend our hydroponic gardening efforts to students across our district.  These funds will allow us to install towers in each of the schools, to create school gardens, to expand our summer sustainable projects and to engage the families in our community as we grow vegetables and spices that are used in their family recipes." - Annette Castiglione, Superintendent, Bellmawr Public School District, Camden County
"Camden City School District is honored to be recognized again by Sustainable Jersey for Schools. Their programs and grants have supported Brimm Medical Arts High School, H.B. Wilson and now Veterans Memorial Family School. We are grateful for their partnership and for highlighting the efforts of our staff and students at several of our schools." - Katrina McCombs, Superintendent, Camden City Public Schools, Camden County
"I am proud of my students and teachers. Their creative approach to learning resulted in funding for an edible community garden. This project will make our school more sustainable, and provide the community with easier access to fresh produce. We are grateful for Sustainable Jersey's support of our vision for a better school and community." -Danette Sapowsky, Principal, Veterans Memorial Family School, Camden City Public Schools, Camden County
"This grant will allow Winslow Township High School to create an outdoor environmental science living classroom to support the school's Environmental STEAM class, the AP Environmental Science class and the Environmental Club. Once completed, all teachers and students will have the opportunity to use the outdoor classroom to enhance traditional classroom lessons. We are excited for the addition of this new educational space at the High School, which will benefit so many of our students." - Dr. H. Major Poteat, Superintendent, Winslow Township School District, Camden County
"The 'Farm to Table: Seed to Seed' project will advance sustainability efforts through the ongoing experiential learning and mentoring of youth as environmental stewards. From our county's youngest preschoolers and elementary students to our high school career awareness activities, the farm to table project will strive to transition a climate of sustainability as a matter of practice.  The creation of a county seed library and the inclusion of an entire community fills a void and increases our impact for years to come." - Steven Vitiello, Principal, Cape May County Technical High School, Cape May County
"Public School 5 recently began our school's first Musical Theatre Club, where students are working to present a staged musical for the community. The Sustainable Jersey for Schools grant funded by NJEA will most definitely help our Musical Theatre Club in the goal of providing students with an unforgettable experience that will help develop their self-confidence, imagination and performance skills. As PS5 Principal, I believe that our children must be provided with diverse artistic opportunities such as musical theatre, where they can express their creativity." - John J. Rivero, Principal, Dr. Michael Conti School, PS #5, Jersey City Public Schools, Hudson County
"Parker School is excited about winning the Sustainable Jersey for Schools grant. These funds will be a helpful stepping stone to our implementation of wellness projects planned for students to engage in physical activities and live healthier lives. Our goal is to create a culture of health and wellness across our school community, and this grant makes it possible." - Lorcha Lewis, Principal, Parker Elementary School, Trenton School District, Mercer County
"The South Plainfield High School Green Team greatly appreciates our recently received grants from Sustainable Jersey for Schools funded by the New Jersey Education Association. We are thrilled that our students will be able to fulfill their vision to encourage health, wellness, and the environment in which we live. With the support of the grant, students will continue their campaign designed to promote healthy beverage choices, hydration for better performance, and massive plastic waste reduction. Our entire school will be provided with filtered water fountains and bottle filler stations. As a generation facing insurmountable environmental challenges, their dedication to improving sustainability has been rewarded by the generosity of Sustainable Schools and the NJEA. The students have learned a lesson that will remain with them for life. We are forever thankful and appreciate your support more than you can imagine." - Shanti Kantha-Murray, Supervisor of Science, Arts, & Applied Technology, South Plainfield Public Schools, Middlesex County
"Our grant, Feeding Howell's Minds and Bodies seeks to seed our students of today with the concepts of sustainability for future global growth.  Our focused efforts in expanding a student's accountability are continuing to evolve through the generous funding provided by Sustainable Jersey for Schools and NJEA. Our grant funded learning landscape creates engagement opportunities to establish a connection between the environment and our community linking our students' responsibility in developing an empathetic stewardship in caring for both.  Our greenhouse will provide the seedlings for our town's community garden resulting in fresh produce for our local food pantry. Our students are the true seeds of change; sown by inspiring educators and harvested by the community." - Dr. Robert Henig, Principal,
Howell Township Middle School South, Howell Township School District, Monmouth County
"The Better YourSELF program at Memorial School capitalizes on Howell Township's focus on social, emotional and physical wellness.  This grant will allow our school to continue to develop a unique learning space that will impact the entire student body and faculty at Memorial School. In addition, this grant will help us foster partnerships within our community that will help serve our students, staff and parents." - Ray Gredder, Principal, Memorial Elementary School, Howell Township School District, Monmouth County
"Spring Lake Heights set out on a mission to turn an overgrown courtyard area into a state-of-the-art outdoor learning environment.  With the support of our PTA, Educational Foundation and this large grant from Sustainable Jersey for Schools we will now be able to see that dream come true. Our outdoor learning environment will have a fully functional professional greenhouse, raised beds, an outdoor classroom and many other unique features. Teaching our students the importance of sustainability is paramount to our vision for Spring Lake Heights students." - John W. Spalthoff, Superintendent, Spring Lake Heights School District, Monmouth County
"I am so proud that Jackson Liberty High School has earned this grant, which will allow us to infuse sustainability themes into many areas of study for our students The passion and innovation in our science classes will advance even further, thanks to the hard work of teacher Mary Russo and to the generosity of the Sustainable Jersey for Schools program. The Authentic Science Research (ASR) classes that will be supported through this grant will help students understand how important sustainability actions are at both the cellular and global levels. Using DNA barcoding technology and research into native plant and insect species, our students will research and discover how ecosystems are impacted over time by human behavior. The work they will be doing will also expose students to the value of a career in sustainability science and in the role we all play in preserving our planet." - Geoffrey Brignola, Principal, Jackson Liberty High School, Jackson Township School District, Ocean County
"Oldmans Township School District is truly appreciative of the $10,000 grant. We look forward to enhancing our Outdoor Classroom. We intend to use the funds to provide a deck for instruction, sun sail for shade and a shed to store materials. The Outdoor Classroom will be used across grade levels as well as with the community. With its location next to a school garden, a focus would be on natural resources, taking care of the environment and implementing a "Farm to Table" approach. Another aspect of the grant would be involving the entire community of Oldmans. Our Township is also part of Sustainable Jersey. The Oldmans Township Board of Education provides updates at its monthly board meetings regarding the status and progress as it is one of their Board Goals. Check out our "Go Green" video at www.oldmans.org." - Alicia Smith, Superintendent, Oldmans Township School District, Salem County
Select Quotes from Select $2,000 Grant Recipients (Listed alphabetically by county)
"The Pascack Valley Regional High School District is excited and proud of the initiative that has been taken by biology teacher, Kristen Lindstrom.  She, along with her students, administrators, board of education and beekeeping experts, have successfully submitted a proposal for how keeping bees on campus will enrich educational experiences for our students, but will also contribute to a more environmentally friendly and sustainable school community. Our district has been able to provide partial funding for this initiative, but ultimately the project would not be possible without the additional support of grant opportunities such as Sustainable Jersey for Schools and the NJEA. I am thrilled to witness the partnership between NJEA, our teachers and board of education as we collectively strive to educate our students about the importance of beekeeping!" - P. Erik Gundersen, Superintendent of Schools, Pascack Valley Regional High School District, Bergen County
"For the past two years, our students have worked hard to build and maintain a beautiful rain garden in our school courtyard as a cross-curricular project supported by NJEA and Sustainable Jersey for Schools. Our rain garden has taught our students about native plant species, stormwater management and environmental responsibility as it furthered our school's sustainability goals. We are excited that this grant will allow us to have new permanent educational signage for our rain garden which will enhance student experience and interaction with nature. We are grateful for all of the support from NJEA and Sustainable Jersey for Schools." - Susan Grosser, Principal, Tabernacle Elementary School, Burlington County
"The Winslow Middle School community is most proud to be the recipient of a Sustainable Jersey for Schools grant which enables our staff and students to focus on health and wellness. With this grant opportunity, we plan to provide both our staff and students with a fitness room. Our goal is to provide health and wellness opportunities to our community via the use of exercise equipment, exercise activities, social-emotional learning experiences, as well as providing information to promote good health. The money as provided by the grant will support our school-wide effort to promote good health." - Stella Nwanguma, Principal, Winslow Township Middle School, Camden County
"The Winslow Township Elementary School 1 is extremely grateful for the funding received from Sustainable Jersey for Schools to support our School Courtyard Garden. This initiative at School 1 will allow our students to learn about the science of gardening, and teachers will be able to use the courtyard garden area to support many other areas of learning." - Dr. H. Major Poteat, Superintendent, Winslow Township School District, Camden County
"Through this funding received from Sustainable Jersey for Schools, the Winslow Township Middle School Green Team will have the ability to upgrade fitness equipment in the weight room, and focus on improving student and staff wellness through weight training and stress reduction.  Health and wellness is a critical component of our Sustainable Jersey for Schools efforts, and we are grateful for their funding support." - Dr. H. Major Poteat, Superintendent, Winslow Township School District, Camden County
"Winslow Township Elementary School 2 will create a Story Walk to support active outdoor learning. Through this new Story Walk, students will have the opportunity to engage in a fun and interactive way to learn, while promoting literacy and fitness. We are thankful for the support received from Sustainable Jersey for Schools to help us start this new project for the students at Elementary School 2." - Dr. H. Major Poteat, Superintendent, Winslow Township School District, Camden County
"Through the support of Sustainable Jersey for Schools, Winslow Township Elementary School 5 will be able to, once again, host a STEAM Fair for students and the community. This event is an important opportunity to show parents and our community about the incredible STEAM learning opportunities offered to our students." - Dr. H. Major Poteat, Superintendent, Winslow Township School District, Camden County
"The Caldwell - West Caldwell School District is delighted to be partnering with Sustainable Jersey for Schools on this grant project. Sustainability has been defined as the principle of "meeting the needs of the present without compromising the ability of future generations to meet their own needs."  This must be a fundamental priority for all schools, as our entire purpose has to do with ensuring bright prospects for our students' futures.  We are grateful to Sustainable Jersey for Schools and the NJEA for their support in this vital work."- James Heinegg, Ed.D., Superintendent, Caldwell-West Caldwell School District, Essex County
"We are honored to receive this Sustainable Jersey for Schools grant. With this funding, we will be able to begin to construct an outdoor learning environment that is aligned with Edgemont Montessori's environmental curriculum and with the principles of Dr. Maria Montessori. We appreciate the support from Sustainable Jersey for Schools and NJEA and are very excited to work with them. These funds, along with the hard work and dedication of our stakeholders will make it possible to achieve an environmentally responsible school and a sustainable future for our students." - Jeff Freeman, Principal Edgemont Montessori Elementary School, Montclair School District, Essex County
"The Environmental Activism Club at Roosevelt Middle School will be launching a student-led composting program as a component of our 8th grade science unit on human impact on the environment.  Students will be working to educate our community on the importance of composting and reducing waste in our school. The funds from this grant will be used to purchase the building materials for the compost bins and collection containers for the cafeteria. We greatly appreciate Sustainable Jersey for Schools for providing the means to initiate our goals to reduce waste at Roosevelt Middle School, increase food waste awareness in our students and increase awareness of the origins of our food through our student led gardening program. Thank you for investing in our community." - Lionel O. Hush Jr., Principal, Roosevelt Middle School, West Orange School District, Essex County
"The Jersey City Charles E. Trefurt School (#8) is thrilled to have been awarded a $2,000 grant through the Sustainable Jersey for Schools program. The funds will cover the development and maintenance of a rooftop garden. Our main crop, chickpea plants, is ideal for capturing CO2 from the atmosphere - and the grant is meant to encourage schools and students to take part in the fight against climate change. It's a fun, educational way to get kids involved with this important issue. Climate change will be one of the big issues of their adult life and we are happy to take this opportunity to get them thinking about solutions." - Marissa Migliozzi, Principal, Charles E. Trefurt School, Jersey City School District, Hudson County
"The staff and students of Newbury School have been working hard toward our sustainability projects. We are monitoring our carbon footprint and trying to limit waste through recycling projects. We are helping the ecosystem by raising trout for release into our local waterways, growing vegetables indoors using our Tower Gardens and supporting the reduction of plastic waste by collecting single use plastic bags for recycling. Through the support of the Sustainable Jersey for Schools grant funded by NJEA, we look forward to installing a water bottle filling station for our staff and students in order to further reduce the use of plastic water bottles in our school community. These grants foster a great partnership between our schools and our community, not only here in Howell, but throughout the great State of New Jersey." - James P. Quinn, Jr., Principal, Newbury School, Howell Township School District, Monmouth County
"We are so very excited to put this generous grant into action to further promote the many wonderful learning opportunities for our students. #GoRams!"- AJ Bohrer, Principal, Ramtown Elementary School, Howell Township School District, Monmouth County
"I am so excited to be part of our Go Green Committee at our school and we are excited and grateful to receive this grant!  On behalf of our entire district, thank you for your support for our efforts as we continue to become a 'greener' school." - Michael E. Ettore, Principal/Superintendent, Monmouth Beach School, Monmouth Beach School District, Monmouth County
"Roosevelt Public School is honored to be selected to receive a Sustainable Jersey for Schools grant funded by NJEA. This year, our hard-working team (led by teachers, Donna Gazzani and Kathy Faunce, and community members, Steve Taylor, Mary Tullos and Natalie Biello) received support from the Roosevelt Educational Foundation; the team will use the grant to extend opportunities for our students to grow and cook produce on our school grounds. We share our produce in our Gardening and Cooking club, and this grant will allow us to share with the wider community." -  Mary Robinson Cohen, M.A., J.D., Superintendent and Principal, Roosevelt Public School District, Monmouth County
"Over the past four years, Copeland Middle School teacher Jessica Staskiel has made it her mission to educate our students on the importance of recycling and preserving the environment.  As the leader of the Copeland Middle School Green Team, Ms. Staskiel has developed a plan to reduce waste by educating and empowering students to take an active role in the recycling program at Copeland Middle School.  Students will learn how to compost organic waste and use the soiI in community-based projects. A big thank you to Ms. Staskiel and Sustainable Jersey for Schools for affording our students this wonderful opportunity." - Alfonso A. Gonnella, Principal, Copeland Middle School, Rockaway Township School District, Morris County
"Chatham High School is honored to be selected as a Sustainable Jersey for Schools grant recipient. We are excited to continue our efforts towards our Sustainable Jersey for Schools certification. These funds will go to good use as we look to make big strides toward our goal." - Darren Groh, Principal, Chatham High School, Morris County
"We are a small district doing big things to make a difference in the world we live in. The recent bottle filling stations and the efforts of the schools' Earth Clubs overseeing various community service projects and routine maintenance of the school gardens are just some ways Florence M. Burd Elementary and Long Pond School continue to promote and support sustainable practices." -  Bryan Fleming, Principal, Long Pond School, Sussex County
"Through this grant opportunity, Mrs. Makarevich has again elevated the Stillwater Township School District in its efforts to become a sustainable school for a greener future. This award will allow us to continue pursuing our vision for sustainability and sets a paramount example for our students who will be the ones tasked with ensuring a sustainable world for all to live in." -  Marissa Cramer, Principal/Supervisor of Special Education, Stillwater Township School, Sussex County
"The Mountainside School District is honored to receive the Sustainable Jersey for Schools 2019 NJEA Grant to fund two water bottle filling stations for Beechwood School.  Students and staff will benefit from the opportunity to utilize this sustainable resource by using reusable bottles and reducing the use of plastics.  Now our youngest students will be mindful of the environment and understand how each of us can have a meaningful impact on it. Thank you Sustainable Jersey for Schools!" - Janet Walling, Superintendent, Mountainside School District, Union County
"We are very excited to explore the world of gardening in Lopatcong and grow our knowledge as we cultivate skills that will benefit our students and community for many years to come." - Eric Renfors, Principal, Lopatcong Elementary School, Warren County