Digital Schools Program
---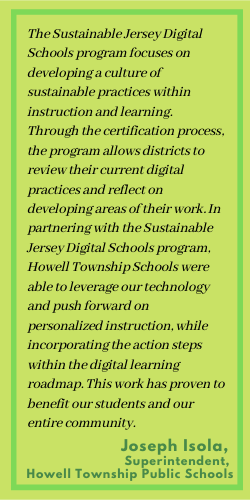 The Digital Schools Program was created In June 2020 to integrate new content into Sustainable Jersey for Schools that strengthens support for schools in meeting the challenges of digital learning and to help bring about a sustainable future for us all. It builds on the legacy of the Future Ready Schools - New Jersey (FRS-NJ) program (which ceased operations in 2019) by integrating FRS-NJ topic areas and content into the Sustainable Jersey for Schools actions (see the Digital Schools History for more detail). Digital Schools was formed as a partnership with the New Jersey Department of Education and the New Jersey School Boards Association and endorsed by New Jersey Leadership for Educational Excellence.
The primary goal is to support schools in their digital learning planning and implementations in order to help them prepare all students for college and career in an ever-evolving digital world. Sustainable Jersey Digital Schools continues its commitment to support schools' digital learning efforts with the introduction of new Sustainable Jersey for Schools actions and Digital Schools Star recognition.
New Actions
Twelve Digital Schools actions have been added to the Sustainable Jersey for Schools certification program across three new action categories. Pursuing Digital Schools Star recognition represents a commitment by districts and schools to assess current practices and implement effective and sustainable uses of digital tools, content, and strategies. A Digital Schools Star embraces the mindful implementation of effective digital learning and communication tools, resources, and practices. It is evident in its mission, culture, classrooms, and interactions with stakeholders.
The new actions and updates encourage district and school personnel at all levels and in all departments to work together to improve planning, decision making, curriculum, pedagogy, budgeting, and technology resources to help students become better prepared for the future. They are intended to help administrators, educators, students, families, and community members better understand the benefits of digital tools, resources, strategies, and equitable access. View the actions by selecting the Digital Schools search filter on the Actions page.
More Points and Resources
Participation in Sustainable Jersey for schools is FREE and voluntary. For schools already active in Sustainable Jersey for Schools, the new Digital Schools actions provide opportunities to earn more points and achieve higher levels of certification. For schools that participated in the former FRS-NJ program, progress made in the program during the past two years will count toward completion of the new Digital Schools actions if the standards are met. Schools that achieved FRS-NJ certification are also eligible to earn points towards Sustainable Jersey for Schools certification by completing the existing Future Ready Schools – New Jersey action. Schools that have not yet participated in either the Sustainable Jersey for Schools or FRS-NJ programs, now have an opportunity to gain recognition through one comprehensive program, while taking advantage of the free resources and support, including grants, available to help enhance their current operations and educational outcomes.
The educational community has shown a fierce commitment to continuing its mission of teaching and learning through the use of digital learning techniques and strategies. It is likely that most if not all schools have met at least some of the requirements for Digital Schools Star recognition, and with Sustainable Jersey's free guidance and support the goal is that all New Jersey schools will achieve Digital School Star recognition.
Get Started Today
Schools can start slowly, building on current successes and seeing how each step yields meaningful gains. Participation and access to all the resources are free. Districts and schools not currently participating in Sustainable Jersey for Schools are encouraged to register in order to:
Keep informed about the latest digital learning training, tools, and resources
Access grants for capacity building or projects related to completing Sustainable Jersey for Schools actions.
Connect with peers following the same process and contribute to the larger community of digital learners