Remote Digital Learning Roadmap
---
The Remote Digital Learning Roadmap is a primer and a practical guide for New Jersey schools, districts, and teachers to help them implement remote and hybrid digital learning programs that provide every student with the best education possible, with as little disruption as possible. It uses research and gathers what many districts have learned to characterize the current state of the field and provide guidance and examples for schools implementing remote digital learning.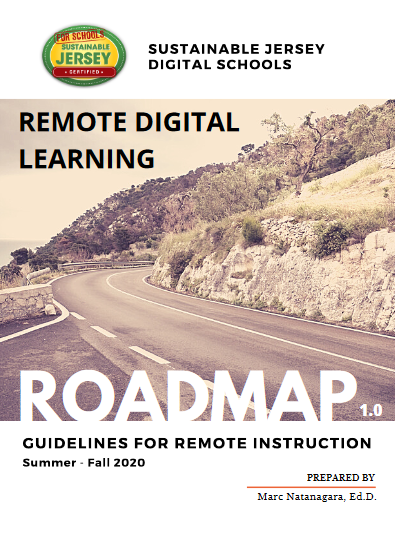 The roadmap was the first product to come out of the new Sustainable Jersey Digital Schools program, a multi-agency partnership formed to help schools and their students prepare for a future of new challenges, during and beyond the pandemic. Access to, and mastery of technology has a tremendous impact on a student's life prospects. As part of Sustainable Jersey for Schools, this new Program will provide ongoing guidance and support to help teachers, students, schools, and districts ensure that students are prepared to be economically competitive and engaged citizens in a technology infused future.
The COVID-19 Pandemic will not be the last time schools must suspend in-person learning. Extreme weather events, predicted to increase due to global warming, and future disease outbreaks, are just a couple of the reasons schools must build this capacity now, and for the future.
Of particular concern is the fact that the pandemic exacerbated existing inequities. The most vulnerable students, those with challenging home environments, limited access to computers and broadband, limited parental involvement, or that require ESL or have special needs, have been disproportionately impacted. These students in particular require schools to build a robust remote digital learning capacity to ensure they do not fall behind when in-person teaching must be suspended.

Financial support critical to this effort was provided by
Underwriter: The Geraldine R. Dodge Foundation
Sustainable Jersey Digital Schools Silver Sponsor: U.S. Army
Sustainable Jersey Digital Schools Bronze Sponsor: ClassLink
Interested in becoming a Digital Schools Program sponsor? Click here or contact Development Manager, Heather Camp at 609-771-2831 or email camph@tcnj.edu. Sustainable Jersey is a registered 501(c)(3) non-profit organization.